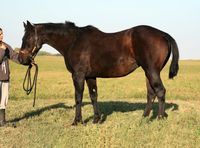 Dos Alta is a AA(SI-85) daughter of leading race sire ON A HIGH(S.I. 113, 9 wins for $1,167,234.) Her dam is an own daughter of the All American Futurity Winner "Ronas Ryon" S.I. 105, earning $1,777,976. Dos Alta has produced AA and AAA starters with earnings of over $20,000! Dos Alta is also a Texas Accredited Broodmare.
Click the link below to go to Dos Alta's own page and get more info, photos, and videos!! http://thunderspiritranch.com/dos-alta
AQHA Race SI-113/AAAT/ROM, Stakes Winner, 22-9(3)-6(1)-4(1) $1,167,234.

1983 All American Fut. Winner, World Champion.

Sire of Champions, SW, ROMs and Performers AQHA & APHA. In 2008 Over $9,508,602 in progeny earnings. 2010 #14 All Time Leading Broodmare sire $16,953,504 (Taylor Fit $1,296,752)

SI-114, AAAT, SW Los Alamitos Derby Champions of Champions Invitational (twice), 1976 World Champion Quarter Running Horse, 1977 World Champion Quarter Running Horse 2x All-Time Leading Sire. Inducted into the AQHA Hall of Fame

AQHA Race SI-97, AAA, ROM Race, Superior Race, 23-10-4-4, $252,167. 1970 World Champion 2YO Colt, 50 AQHA Points.

Multiple Race Winner, Dam of AAAT, All-Time Leading Sire DASH FOR CASH, AQHA HALL OF FAME (AQHA), Racing World Champions, ROM-Race Horses, Stakes Winners and a Track Record Holder.

13-2-1-4, $8,487. SIRE OF: Race Money Earners of $3,541,928. 19 Superiors, Race. 285 ROMs, Race. 1 AQHA Champion. 1 World Championship, Arena. AQHA ID#: T0118714

AQHA Race SI-105/AAAT/ROM/Superior 23-18(5)-4(2)-0 $1,777,967. AQHA HALL OF FAME (2004)

NTR Setter, 1986 AQHA RACING CHAMPION TWO-YEAR-OLD COLT, World Champion, 1986 RACING HIGH MONEY EARNING HORSE Sire of 1,071 foals, 774 performers, 769 race starters, 487 winners, 50 Stakes Winners with 90 Stakes Wins, 53 Stakes Placers, 262-80+ ROM, 236-90+ ROM, 65-100+ ROM, 29 Superior Race Awards, 1 World Champion, & 10 Regional Champions, earning $8,948,653

Color: br

AQHA# 0627622

AQHA Race SI-101/AAAT/ROM 37-15-10-4, $37,858

Produced Hall of Fame offspring and World Champion Ronas Ryon. Dam of 2 stakes winners from a foal crop of 9 with a total earnings of $1,857,099 and total race offspring wins of 37
"Two Times The Reason" out of Dos Alta Wins at Albuquerque, New Mexico!
Two Times The Reason out of Dos Alta Wins Again!