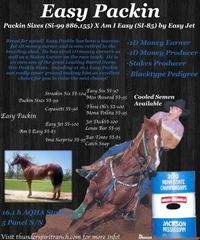 Easy Packin is a successful 1D barrel horse as well as a 1D Barrel horse and ROM Producer. Easy Packin is also a Stakes producer on the race track! This guy has a pedigree written in gold, an own son of the great Packin Sixes and out of an own race winning daughter of the legendary Easy Jet!
For more info and photos of Easy Packin click the link below: http://thunderspiritranch.com/easy-packin
Race Record: AAA, SI-99, 19-5-2-1, $86,155 All American Futurity Finalist Winner of QHBC Southwest Futurity

SIRE OF: On the track: Sheza Packin Sixes Stakes Winner of $69,000 Packin Dash SI 110 Stakes Winner of $53,000 Packin Irish SI 110 New Track Record ED 400 yds in 19.58 & earnings of $27,000

In the Arena: Sixes Outlaw winner of over $70,000 fastest qualifier in Fort Smith Futurity, Congress Sweepstakes Go-round winner

Multiple Stakes Winner, AQHA SI-104, AAAT, ROM Race, SW, 19-10(2)-5(2)-1(1) $473,937. A Leading Sire of Money Earners of nearly $15 million.

AQHA Race SI-100 AAAT ROM Race (SW)16-1-2-1, $201,715

Won: 1968 All American Fut. beating Lady Bug`s Moon & Top Bug. 1969 new TRH 17:60 at 350yds. Top 1968 Leading Sires list of Money Earning Horses. A Leading Sire of 1981 Winners, SW AND Race ROM Sire of: 2World Champs, 2 Race World Champs, 45 Superior Race, 57 Stakes Winners, Offspr earnings $4,779,601;428 Race ROMs, 6 Arena ROMs etc 21 Money Earning Barrel Horses listed Three Ohs as their Mat. Grandsire, 53 listed him as their Pat gr-grsire He was 10 year of age at the time of his death in 1976. Breeder: H Hurd, Shawnee, OK.

$445,723 Race Earnings, Multiple Stakes Winner, Speed Index-100, Race ROM, Superior Racehorse, AQHA Hall of Fame 1969 World Champion Quarter Race Horse 1969 Champion Quarter Race Stallion 1969 Champion Quarter Race 2YO Colt 1970 Champion Quarter Race Horse 1970 Champion Quarter Race 3YO Colt Won All-American Fut., etc.

$200,628 Race Earnings, Speed Index-100, Multiple Stakes Winner, 40 AQHA Points, 1962 AQHA Champion Quarter Running Two Year Old Colt, 1962 AQHA Champion Quarter Running Horse, 1963 AQHA World Champion Quarter Running Horse, ROM 5 Halter Points

AQHA Race SI-95/AAA/ROM 25-5-2-3, $5,737

Dam of ROM Race: Ima On(71)by Jet On Surprising Mut(74)by Dogface Imasweetsurprise(79)by Easy Jet Am I Easy(81)by Easy Jet

AQHA Race SI-85/AA/ROM

Sired 94 Starters, 58 Winners, 15 Stakes Wins, 6 Superior Race, 53 ROM Race, Race Money Earned-$279,476, 7 ROM Arena, 3 AQHA Champions, 13 Halter Points Earners
Video of Easy Packin in Competition!
Photos of Easy Packin Offspring
Video of 1D money earning son of Easy Packin, 'Packin EZ Bugs'!