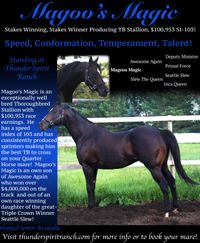 Magoos Magic is a Multiple Stakes Winning Thoroughbred Stallion that earned a Speed Index of 103 and $100,953 on the track. Magoos Magic is an own son of 'Awesome Again' who won $4,374,590 on the race track! He is also out of a race winning daughter($30,160) of 'Seattle Slew'!! Seattle Slew was the 1977 Triple Crown Winner and Champion Three-Year-Old and Horse of the Year, only horse to win the Triple Crown while undefeated. Only Triple Crown Winner to defeat another Triple Crown Winner (Affirmed. '78 Marlboro Cup) Hall of Fame inductee, 1981. Seattle Slew had $1,208,726 race earnings.
Magoos Magic has consistently produced Sprinters making the best Thoroughbred to cross on your Quarter Horse mare for an Appendix foal! Magoos Magic will put $6,721,168 worth of race earnings on his foals papers! Magoo is a big bodied Thoroughbred and will ad speed onto Quarter Horse foals without sacrificing that big QH hip!
Stud Fee: $800
Exceptional conformation, fancy head, intellient, temperament and SPEED!!
Contact us for more info or to book your mare to this great Stallion!
Click the link to go to Magoo's Magic own page to see photos video and more! http://thunderspiritranch.com/magoo-s-magic
$696,964 Race Earnings! Multiple Graded Stakes Winner, Sovereign Award - 1981 Horse of the Year, Sovereign Award - 1981 Champion 2 Year Old Colt, Eclipse Award - 1981 Champion 2 Year Old Colt

1977 Triple Crown Winner!! Won the 1977 Kentucky Durby, Preakness Stakes and the Belmont Stakes. $1,208,726 Race Earnings! Hall of Fame - 1981, Eclipse Award - 1978 Champion Older Horse, Eclipse Award - 1977 Horse of the Year, Eclipse Award - 1977 Champion 3 Year Old Colt, Eclipse Award - 1976 Champion 2 Year Old Colt

$313,930 Race Earnings, Multiple Stakes Winner, Hall of Fame - 1978, Eclipse Award - 1959 Champion 3 Year Old Filly, Multiple
Video of MAGOO'S MAGICS' Race Win in West Virginia, USA
Photos of Magoo's Magic Offspring
MAGOO'S MAGIC has also proven himself as a great sire.  Below are some of Magoo's own sons and daughters winning in their own races!
Twice The Magic wins and Queen Of Magic 2nd, both daughters of Magoo's Magic!
Mysterious Magic own son of Magoo's Magic takes the win!