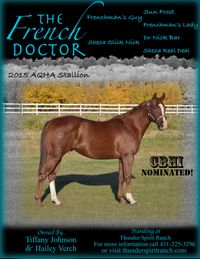 2015
We are very excited to add this stallion to our roster! Owned by Tiffany Johnson and Hailey Verch, watch for this up and coming stallion as he starts competing in 2021!
An own son of Leading Barrel Sire FRENCHMAN'S GUY and out of a 1D daughter of DR NICK BAR!!
INTRODUCTORY STUD FEE FOR 2021 is $950.00 LFG!
For more information, photos, and videos of The French Doctor click this link: https://thunderspiritranch.com/the-french-doctor
Decade's #1 Living Leading Barrel Sire!

A Top Leading Barrel Horse Sire in 2001-2009; sire of Jolee Lautarets NFR horse Frenchmans Twister and Jordan Petersons NFR horse Frenchmans Jester. Top 10 All-Time Leading Barrel Sire, siring earners of $1,745,458 (barrels), including SX Frenchmans Vanila ($164,104, Old Fort Days Barrel Fut. Ch., Speedhorse Barrel Fut. Ch.) Frenchmans Lil Lady ($62,359, fnl. BBR Finals), Frenchmans Jester ($54,452, BFA World Barrel Fut. Ch.), Sky High Guy ($53,976, FizzBombBrl. Fut. Res. Ch.), GoFor It Frenchgirl ($46,376)

Sire of Multiple Barrel Racing & NCHA Money Earners. NCHA Lifetime Offspring Earnings As Of 12/3/2001 $236,702 with 20 money earners; Full brothers French Flash Hawk and PC Frenchmans Hayday are NFR qualifiers. Sire of French Flash Hawk, aka Bozo, 4-time WPRA World Champion Barrel Horse and 5-time WNFR Average Winner 1994-1998, five straight years. Winner of major rodeos: Houston, Cheyenne, Calgary, etc. Sire of PC Frenchmans Hayday, WNFR money earner for Sherry Cervi and prorodeo winner. Also prorodeo winner in heeling. Sire of Sun Frosted Rocket a 2004 palomino stallion, WPRA money earner, and 1d money earner as well. Sire of PC Bronsin a 1985 buckskin stallion. Sire of Frenchmans Guy # 1 Barrel horse sire

AQHA Show H-0/P-8 ROM Arena AQHA Champion AQHA Race SI-74/A/ROM 4-0-1-0 $125 World Ch, High Point Cutting Horse. Stallion Offspring Record for Doc's Jack Frost World Champion Offspring Reserve World Champion Offspring Superior Performance Offspring AQHA High Point Performance Offspring ROM Performance Offspring NRHA Money-earners NCHA Money-earners NSBA Money-earners NRCHA Money-earners Halter Point Earners Docs Jack Frost was Syndicated in 1981

Dam OF Frenchmans Guy, Progeny earnings of over $2,000,000 Half Sister to Caseys Charm, Dam of 4 time NFR World Champion Barrel Racing Horse French Flash Hawk aka Bozo.

AQHA Race SI-85/AA/ROM; 69-2-4-11, $2,687 Track Record Setter Sire of Stakes Winners, Race ROM, AAA, AAAT, Superior Race, $58,545 Performance and Halter Point Earners, NCHA Money winners, Leading Maternal Grandsire of Barrel Horses.

AQHA Hall of Fame 2017 Produced Caseys Charm dam of: FRENCH FLASH HAWK Bozo 5x WPRA World Champion and 5x AQHA/PRCA Horse of the year FRENCHMANS FABULOUS performance ROM in Open AQHA Heading and Heeling and more that $290,000 LTE rodeo earnings PC FRENCHMANS HAYDAY LTE $400,000 competing at the NFR in Barrels and Heeling PC FRENCHMANS MARK who is a proven producer She is also the dam of Frenchmans Lady who is the dam of FRENCHMANS GUY Breeder: Mr & Mrs Virgil Ningen, Porter, MN.

Dr Nick Bar himself was the World Ch. Futurity Res.Champion, made the NFR with Fallon Taylor, and is still in the top 5 on the decade's leading barrel sires list! He was known as "The Ultimate Barrel Horse Sire"

As was common with Sugar Bars horses, as a track horse, he broke hard and in the lead, only to lose ground. This racing flaw was what every roper and barrel racer wanted. He went on to sire some of the top rodeo horses of the era. He sired Dr Nick Bar and Fire Water Flit, each top shelf barrel-racing studs.

Star SI-96/AAA/ROM, 8-4-1-1, Earnings: $15,242. SIRE RECORD 296 foals, 146 to show, Equi-Stat Offspr Barrel Race LTE $126,922; Number of BR offsprg, 31; Avg BR offsprg earnings $4,094. Breeder: Kevin J Blach Foaled February 1, 1980 (NM)

Own son of Ledgendary EASY JET

SI-96 Stakes Winner, AAA Stakes Winner producer. Own daughter of Master Hand by Bold Ruler.
More photo's of The French Doctor coming soon!
The French Doctor's Offspring